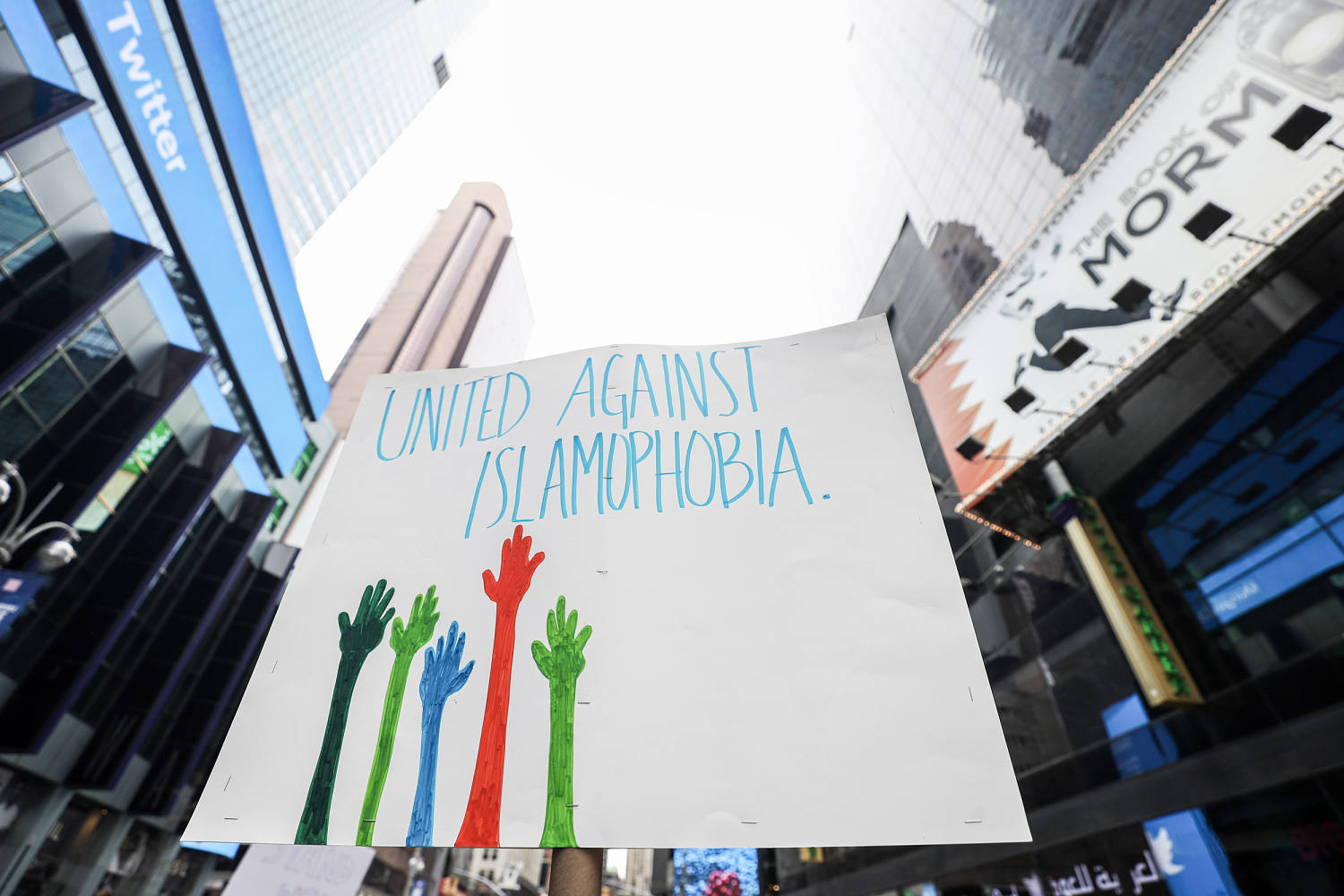 As a Palestinian American, Laila El-Haddad, 45, feels like she's fighting a battle on two fronts. She's filled with fear for her family in Gaza, now facing an uncertain future without a way to contact her. But as a Muslim living in the U.S., she's also dealing with some of the most rampant Islamophobia of her lifetime, she said.
"I personally have been through this — I was 21 or 22 in Boston when 9/11 happened," she said. "This feels like that, but almost a more dystopian version of that."
A vocal advocate for Palestinian rights, El-Haddad says she's faced harassment, online threats and even a letter sent to her home address calling for all Gazans to be killed.
The Council on American-Islamic Relations said that it received 774 requests for help and reports of bias incidents from Muslims across the United States from Oct. 7 to Oct. 24, a 182% jump from any given 16-day stretch last year. For comparison, during a 16-day period in 2022, CAIR received an average of 274 complaints.
"We're working seven days a week, around the clock, fielding incoming complaints," said Corey Saylor, research and advocacy director for CAIR. "I've only ever seen that twice in my career: right after 9/11 and in December 2015 after that announcement by Trump of his plan to ban Muslims from the country."
Palestinian officials have said that more than 8,500 people have been killed in Gaza and over 21,000 were injured in the violence following the Oct. 7 Hamas terrorist attack on Israel that claimed civilian lives in kibbutzim and at a music festival. In Israel, officials there say 1,400 people have been killed, over 5,400 have been wounded and an estimated 240 were taken hostage.
Bias incidents range from verbal harassment to physical violence, the CAIR report said. Saylor says these incidents sometimes get reported to law enforcement, but in many cases the complainant doesn't trust the police enough to move forward.
The spike in reports of Islamophobic incidents, and violence against Muslim Americans, has put the community on edge.
On Oct. 15, 6-year-old Wadea Al-Fayoume was fatally stabbed at his Illinois home in what police said was an anti-Muslim hate crime.
The boy's landlord, Joseph Czuba, has been charged in the murder, and also with critically wounding Al-Fayoume's mother in the attack. Police say Czuba screamed "you Muslims have to die" when he barged into their ground-floor apartment, according to family friend Yousef Hannon.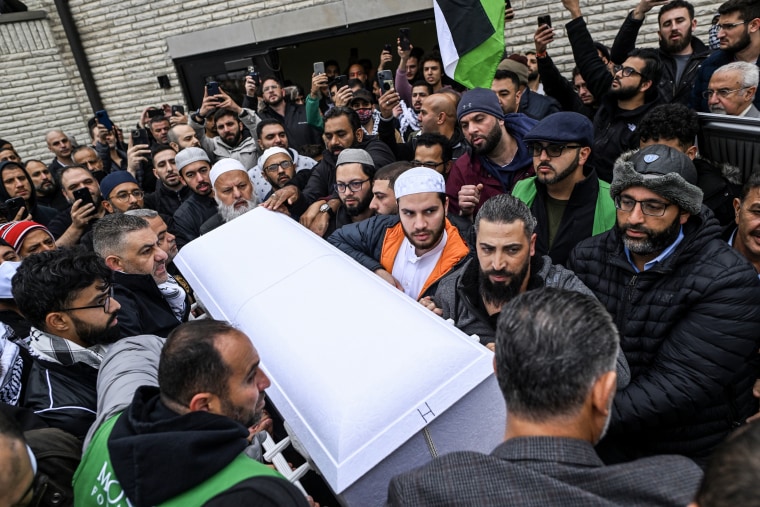 Also in Illinois, a man was charged with a hate crime after demanding that two Muslim men get out of the country and threatening to shoot them on Oct. 17, NBC Chicago reported.
Ali Awad, an Atlanta-based attorney, is no stranger to Islamophobia. He was in the fifth grade during the 9/11 attacks.
"All the teachers in the school, everyone turned the TVs on, and all the kids were watching," Awad, now 32, said. "And this one kid named Josh just yelled at me, 'Hey, why is your family killing us?' in front of the whole class."
Awad, who is Palestinian American and grew up in a conservative Christian community in Georgia, says this was one of many instances that left him feeling isolated because of his faith. These past few weeks, he's been called a terrorist online for speaking in solidarity with his Palestinian heritage, and physically threatened by a fellow attorney who said, "I'm going to hunt you down." Awad reported him to the State Bar of Georgia.
But actual Muslims aren't the only ones at risk from Islamophobia, Awad says. Anyone perceived to be Muslim, including Arabs who belong to other faith groups, and Sikhs, may also be targeted by Islamophobes.
On Oct. 15, a 19-year-old Sikh teen was attacked on a New York City bus by an assailant who tried to remove his turban in a suspected hate crime.
In a statement, The Sikh Coalition, a national organization based in New York, urged "vigilance for all given the current climate," citing the fatal stabbing of Al-Fayoume in Illinois.
"For Palestinians and more generally, Arabs and anyone who looks to be from that part of the world, this isn't a new thing," El-Haddad said. "We've always been demonized."
Now, as a U.S. citizen of six years and a mom, she's having to teach her children how to keep themselves safe in the face of a new wave of Islamophobia, too, she said.
"I just tell my daughter not to engage or respond," she said, noting that her 15-year-old also wears a hijab. "There's this heightened fear, obviously."
Hijabi women and girls are easily identifiable as Muslim, making them particularly vulnerable to Islamophobia.
On Thursday afternoon, a Maryland woman who wears the hijab was in her car with her child at a stop light when she was called a Muslim slur and flashed the middle finger by a woman, NBC Washington reported. The situation escalated when the victim began recording the incident and the woman began banging on the hood of the car and the passenger-side window.
In New York, a man called a teen girl a terrorist and pulled on her hijab while she was on the subway to school, NBC New York reported.
The Muslim Student Association of New York University hosted a self-defense class for women and girls Monday. While it was scheduled months ago, the class was timely in light of the recent increase in Islamophobic incidents, said Sheikh Faiyaz Jaffer of the Islamic Center at NYU.
Other moms in El-Haddad's circle are keeping pepper spray on them and taking more precautions moving through the world, she said. She worries that misinformation and language that conflates Muslims with terrorists will have dire impacts on brown people in the U.S. and beyond.
"Using dehumanizing language has deadly consequences, often not only for Palestinians there in Gaza, but for any person of color here, a Muslim or not," she said.
Harassment on college campuses
For 19-year-old Dua, a Pakistani American sophomore at Johns Hopkins University, the period following Oct. 7 has been filled with the most Islamophobia she's experienced in her life, she said.
She said her and her friend, who both wear hijabs, have been photographed without their consent, surrounded and accosted by other students and targeted for being perceived as pro-Palestine, even during daily activities. Dua chose to only use her first name for fear of further targeting.
In one incident, Dua recalls a male student taking a photo of her and her friend, then cornering them and aggressively accusing them of painting a Palestinian flag on a school statue when they didn't.
"We're just trying to get him to stop, and then a few other people show up," she said. "Me and my friend, we're up against a chain, and these people are around us, so we can't leave."
Eventually, a girl in the group that surrounded them de-escalated the situation, but "all of them profiled us," Dua said.
When she reported this to the university, she said they didn't do much, simply directing her to campus safety and school mental health resources.
"They were basically like, 'Well, since you don't know who it was, we can't do anything about it,'" she said.
A Hopkins representative said that all concerns are taken seriously and that university leaders have been working to ensure safety and inclusion, but they can't comment on ongoing investigations.
"Harassment is not only a violation of policy at Hopkins, but also antithetical to the values of our university," the representative told NBC News. "Student safety is a top priority for our campus. We have 24-hour security at multiple locations at the request of organizations, and we have been very careful to make the same offers of security across the board to all organizations."
Cornell University saw high-profile threats against Jewish students this week, as well. After threats of violence circulated online, a threat alert was issued to students, and police referred the case to the FBI. The Anti-Defamation League, a Jewish advocacy organization, said they received reports of 312 antisemitic incidents from Oct. 7 to 23, a 388% rise from the same period last year.
In another incident, this one off-campus, Dua and the same friend were walking back from seeing a movie when a car stopped directly in front of them and the occupants pointed at them and flipped them off.
"We were just wearing our hijabs," she said. "We weren't even wearing anything that was specifically pro-Palestine. Stuff like that has been happening a lot more."
Ultimately, she said, Muslim students feel a lack of safety even leaving their dorms, and they feel their concerns aren't being met with appropriate measures.
A targeted period of backlash for Muslim Americans
Saylor said this period of backlash for the Muslim American community is concerning because he feels it's more targeted than in the past.
"What's unique about this one is it's very personal," Saylor said. "Meaning, usually we see activists get targeted, but this time, we're seeing students getting doxxed because they spoke in support of Palestinians. We're seeing the same thing in corporations, waves of people calling saying they're being called into HR, some actually being terminated, or having job offers rescinded because they decided to speak up for Palestinian humanity."
"I've never seen anything like this, and I've been doing this for 30 years," Saylor said.
Zainab Chaudry, director of CAIR's office in Maryland, believes the reports the organization received are an undercount.
"There's a very real sense of fear within our communities about the implications of these kinds of incidents and the consequences of reporting and coming forward to demand justice," Chaudry said. "There's a fear of consequences, of backlash, of intimidation, harassment, further perpetuation of the aggressions against the victim."
Chaudry emphasized the importance of law enforcement investigating these incidents thoroughly and elected officials calling out Islamophobia in their communities the same way they would call out other forms of hate.
CAIR itself, which has expressed support for a cease-fire in Gaza, was forced to cancel its annual banquet scheduled for Oct. 21 because staffers and the hotel venue received violent threats, including one to plant a bomb in the hotel's parking lot, according to the organization. CAIR later secured another venue for their annual banquet for the same day.
"We take these threats very seriously and we condemn them, and the broader surge in Islamophobia and anti-Palestinian sentiment and racism," Executive Director Nihad Awad said in a video statement.
The Arlington County Police Department documented the banquet incident, which they said included the hotel "receiving anonymous phone calls, some referencing threats to bomb." The investigation is ongoing, the ACPD said in a statement.
Awad says the recent wave of Islamophobia has left him feeling dehumanized as a Muslim and a Palestinian.
"I feel backstabbed and betrayed," Awad said. "But the racism? I grew up with that. I'm used to it."
One positive in the current climate compared to the past, Awad says, is social media.
"What we have now is our social media and our voice, which we didn't have in 2001," he said. "So, now we can actually broadcast what's happening."
For more from NBC Asian America, sign up for our weekly newsletter.
Source: | This article originally belongs to Nbcnews.com