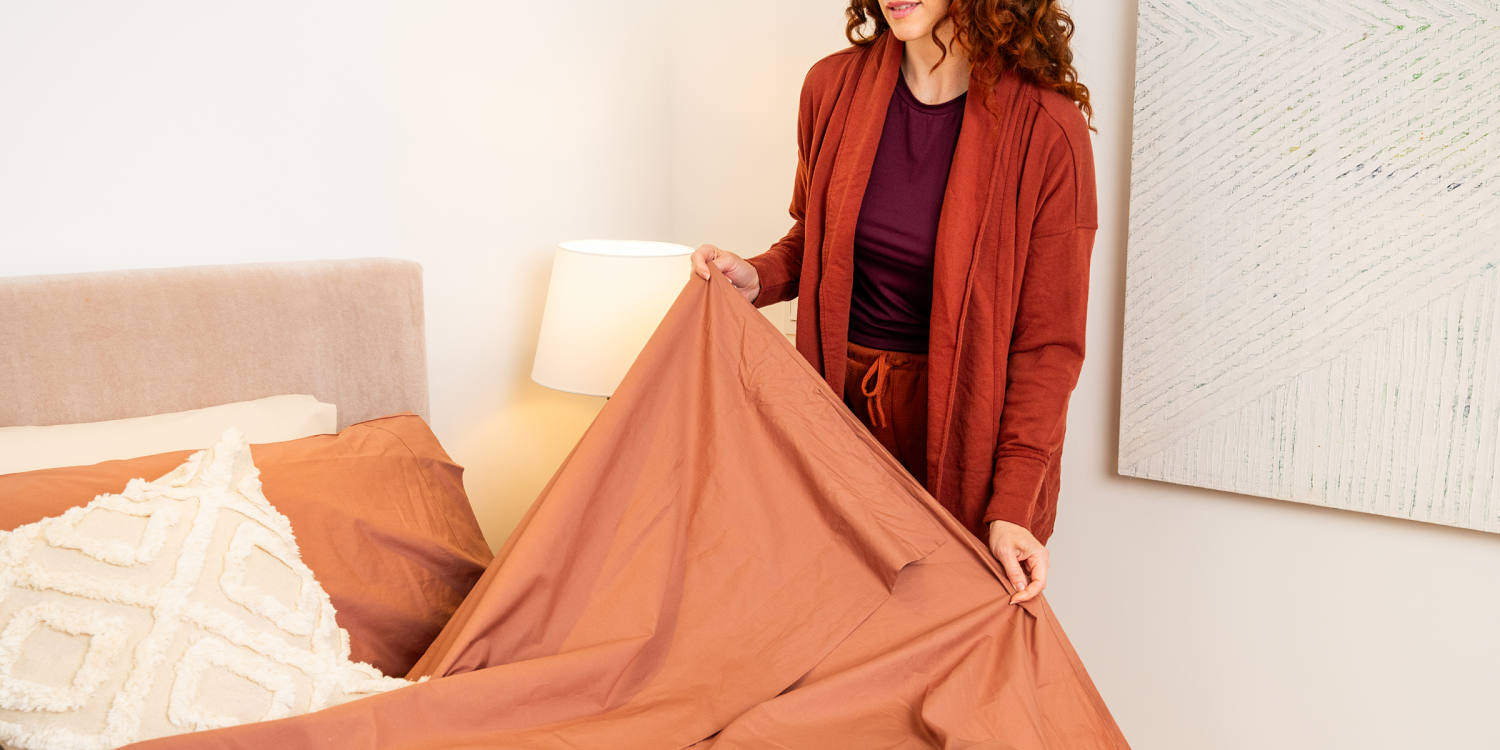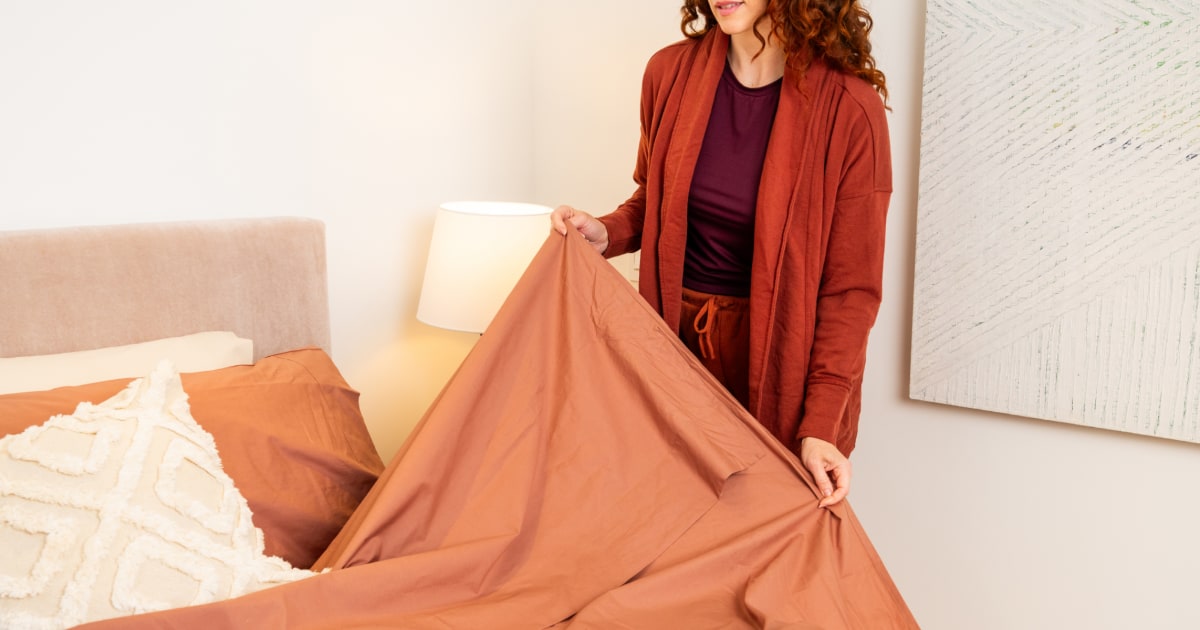 It's the question that continues to divide the internet: Do you use a top sheet? Users and non-users can't see eye-to-eye, which couldn't have been clearer when we asked Select staff to pick a side and posted their responses to TikTok. Over 91,000 views later, comments continue pouring in — many voice their support or disdain for top sheets, while others wonder what a top sheet actually does and if you really need one. To get to the bottom of it, we talked to experts and answered all of your top sheet questions below.
What is a top sheet?
A top sheet is a rectangular, flat sheet that goes between you and your comforter, duvet or quilt, says Karin Sun, founder of Crane & Canopy, a bedding and home linens brand. It typically comes in a sheet set along with pillowcases and a fitted sheet, which is the sheet that covers your mattress, and has elastic around the perimeter. A top sheet is also often referred to as a flat sheet, Sun says.
What is the purpose of a top sheet?
The overall purpose of a top sheet is to keep your comforter, duvet or quilt clean, says Naz Azodi, the director of industrial design at Casper, a brand that specializes in sleep products. As you sleep, the bacteria from your skin transfers onto whatever bedding it's touching. A top sheet acts as a barrier between you and your comforter, duvet or quilt, helping to keep some of the bacteria off of it, Azodi says. This means you can wash your top sheet more often and your outermost layer less often since it's not touching you throughout the night, she explained.
A top sheet also has an aesthetic purpose, Sun says. You can fold it over your comforter, duvet or quilt to get what she refers to as a "classic, perfectly layered bed."
Do you need to use a top sheet?
Sorry team top sheet: experts say you don't need to use one. But 58% of Americans agree or strongly agree that they're essential, according to a 2019 Casper survey. Your preference determines how often you'll have to wash your duvet, comforter or quilt.
If you use a top sheet, wash your duvet cover, comforter or quilt every two to four weeks, Sun says. If you have allergies or pets, stick to laundering it every two weeks, but if not, four weeks is fine.
If you don't use a top sheet, it's best to wash your duvet cover, comforter or quilt weekly, Sun says.
For duvets specifically, how often you wash the cover depends on whether you use a top sheet. But in either case, experts recommend washing the duvet insert every six months, or more often if you have allergies or pets.
How often should you wash your sheets?
Experts say you should wash your sheets — meaning your pillowcases, fitted sheet and top sheet (if you use one) — once a week. Bed sheets get dirty very quickly, Azodi says. We transfer germs and bacteria from our skin to the fabric overnight, as well as sweat in our sleep and shed hair and skin cells. If you have pets, their dander, dirt and hair gets all over your bed, too. Because of this, laundering your sheets weekly is best for hygiene's sake.
What are the pros and cons of using a top sheet?
The biggest benefit of using a top sheet is not having to wash your comforter, duvet cover or quilt as often. These are usually the most bulky pieces of bedding, and depending on the size of your washer and dryer, they may be difficult to shove inside or take forever to dry.
Top sheets are also sometimes preferred by hot sleepers. Duvets, comforters and quilts are thicker and heavier than top sheets, and can trap heat more easily, says Dr. Alex Dimitriu, a double board-certified doctor in psychiatry and sleep medicine, and the founder of Menlo Park Psychiatry & Sleep Medicine. People tend to sleep better when their body temperature can decrease at night, he explained, so some fold down their outermost layer of bedding and just use a thin top sheet. It gives them something to cover their body with, but it's lightweight and breathable, so it traps less heat.
On the other hand, some people find a top sheet useless because they move a lot in their sleep and find it bunched up toward the end of the bed in the morning, Sun says. If that sounds like you, the top sheet isn't really serving a purpose, and it may be time to abandon it completely.
Can you buy sheet sets without a top sheet?
Yes, you can buy sheets without a top sheet. Many brands sell "no top sheet" sets, which only includes a fitted sheet and pillowcases — check out options from Boll & Branch, Brooklinen and Crane & Canopy, for example. Some brands also give you the option to add a top sheet to your set if you want one. All of Parachute's sheet sets, for instance, don't come with a top sheet, but the brand gives you the option to add one on. Also keep in mind that sets with top sheets typically cost more than sets without.
Meet our experts
At Select, we work with experts who have specialized knowledge and authority based on relevant training and/or experience. We also take steps to ensure that all expert advice and recommendations are made independently and with no undisclosed financial conflicts of interest.
Why trust Select?
Zoe Malin is an associate updates editor at Select who writes about sleep products like sleep masks. For this article, she interviewed three experts about top sheets, their purpose and whether you should use one.
Catch up on Select's in-depth coverage of personal finance, tech and tools, wellness and more, and follow us on Facebook, Instagram, Twitter and TikTok to stay up to date.
Source: | This article originally belongs to Nbcnews.com