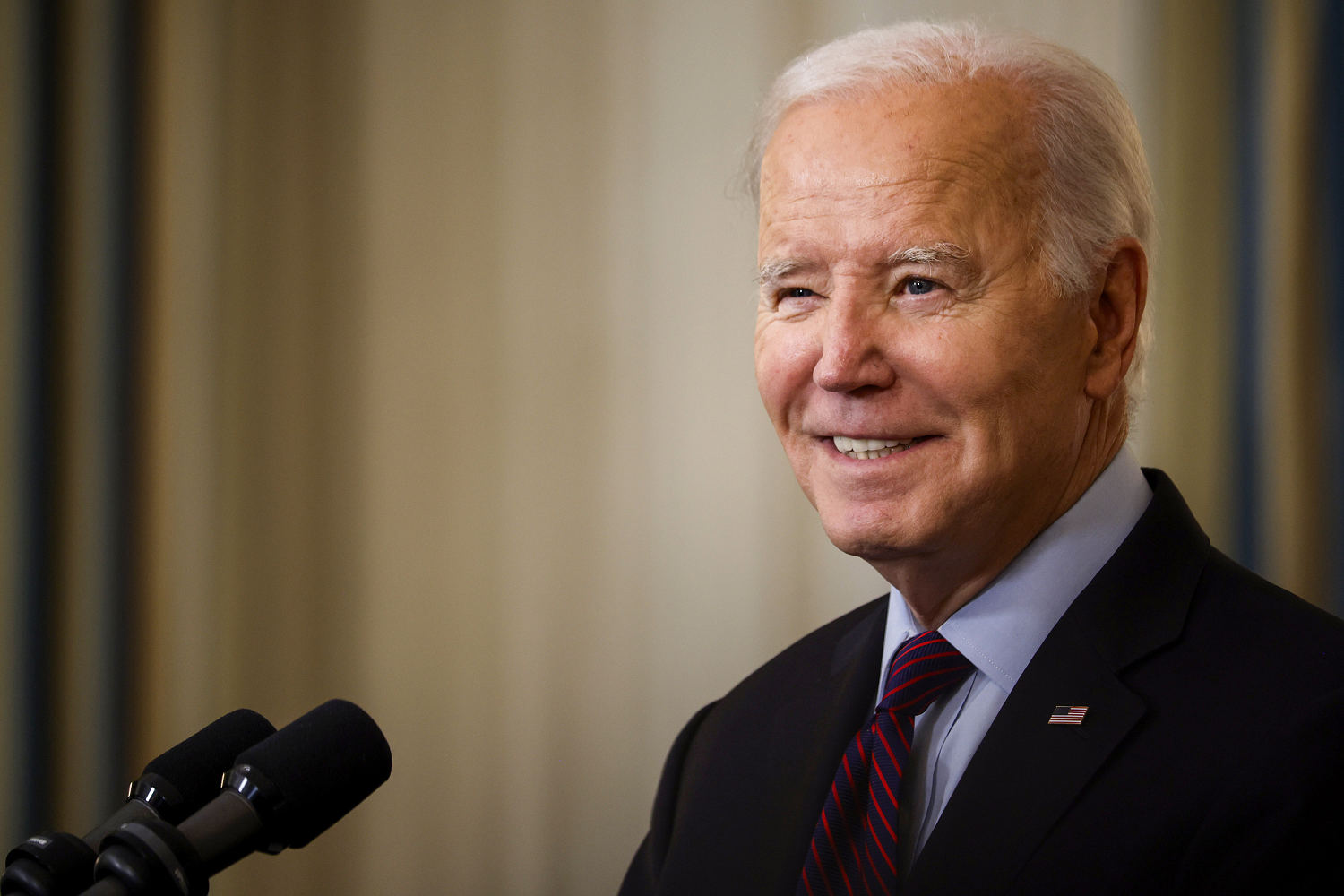 WASHINGTON — President Joe Biden has hit a new milestone as the Democratic-led Senate confirmed his 150th federal judge.
Back-to-back votes Tuesday made Kenly Kiya Kato and Julia Kobick district court judges in California and Massachusetts, respectively, totaling 113 district court judges chosen by Biden.
He has also secured lifetime appointments for 36 appeals court judges — who have the final word on most matters of federal law — and one Supreme Court justice: Ketanji Brown Jackson.
Senate Majority Leader Chuck Schumer, D-N.Y., called it "a very important day in the Senate."
"Our 150th judge confirmed under President Biden," he told reporters. "That's really a great record: 150 judges who have brought integrity and impartiality to the bench; 150 judges who've expanded the diversity and dynamism of our courts; 150 judges who are restoring Americans' trust in the federal judiciary."
Schumer added that Kobick, who was confirmed on a 52-46 vote Tuesday evening, marks "our 100th female judge" confirmed by the Senate in the Biden era.
"We're making the bench look more like America. It never did," he said. "And we're making giant strides, more than any other Senate has, to get that done."
Reshaping the courts with more public defenders and greater diversity has been a high priority for Biden and Schumer. It comes after four years of former President Donald Trump and Senate Republican leader Mitch McConnell, R-Ky., who steered through 234 federal judges — most of them young, conservative and poised to serve for decades — including three Supreme Court justices who tilted the court to the right and paved the way for the landmark ruling last year that overturned Roe v. Wade.
"The confirmation of 150 life-tenured federal judges is a major achievement, but it's also just the start," White House Counsel Ed Siskel and other top officials said in a Tuesday memo. "The President is committed to filling every judicial vacancy, and the administration will continue to work closely with Senators from both parties to identify, nominate, and confirm judges from diverse professional and personal backgrounds who are eminently qualified and faithful to the rule of law."
Democrats pushed through many judges in Biden's first two years despite the 50-50 split in the Senate, where the filibuster has been eliminated for judicial nominations, which now require a simple majority to be confirmed. The cause gained a boost last fall when Democrats defied the odds in the midterm elections and expanded their majority by one seat.
Biden's nominees have drawn broad opposition from Republicans. But some of them have won bipartisan support from a share of GOP senators.
This year, judicial nominations have occurred in fits and starts.
A months-long absence of the ailing former Sen. Dianne Feinstein, D-Calif., left Democrats unable to process nominations without Republican support in the Judiciary Committee, on which she held a seat decisive to her party's majority. She eventually returned but died at age 90 in late September. Soon after, California Gov. Gavin Newsom appointed Sen. Laphonza Butler to temporarily fill her seat and the Senate voted unanimously to let her take Feinstein's spot on the Judiciary Committee.
Schumer said earlier this year that he hopes to outpace Trump's total by the end of Biden's first term. With the 150th judge, he said Tuesday, "we're only halfway through."
"We aren't done," he said.
Source: | This article originally belongs to Nbcnews.com