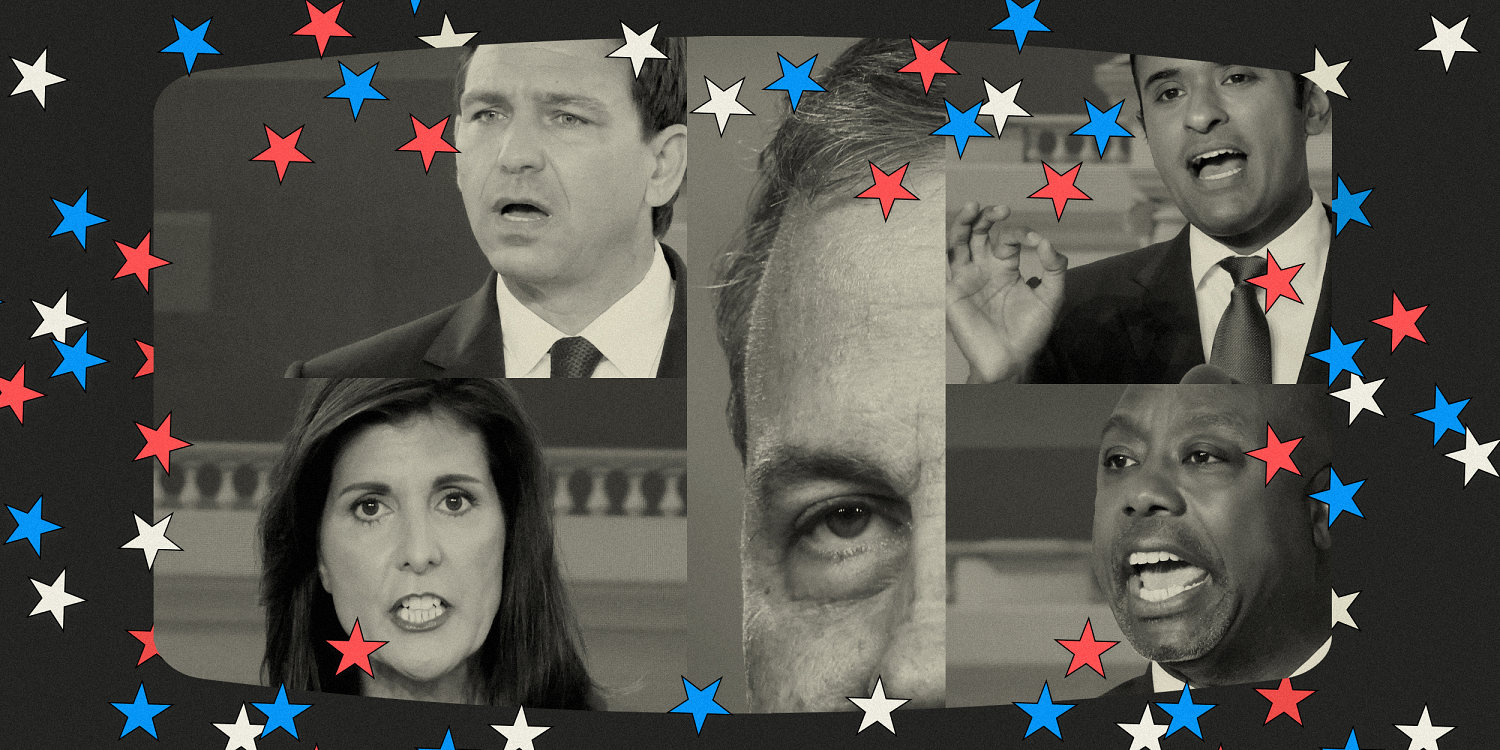 What do the candidates eat pre-debate?
"If I'm picking the restaurant after the debate, that's bad," Christie said.
RNC Chair McDaniel: Republicans 'have to talk about' abortion
Fresh off an Election Day during which Democrats extended their post-Roe winning streak in races where abortion rights were a central theme, Republican National Committee Chairwoman Ronna McDaniel said today that GOP candidates "have to talk about" abortion.
"Our candidates have to talk about this. We can't put our head in the sand. We can't let Democrats define us," McDaniel said on NBC's "TODAY."
McDaniel said Republicans "have to talk about this issue in a compassionate way" and that both political parties "have to come to a consensus" on the issue.
She suggested that position could be a ban on abortions "around 15 weeks" with several exceptions, including ones for "life-saving care," but said it would be "up to the candidates to decide" whether such a policy would come at the state level or the national level.
However, voters in Virginia rejected that exact proposal — a 15-week ban with exceptions for rape, incest and the health of the woman — yesterday when they awarded Democrats with control of both chambers of the Legislature, after Republican Gov. Glenn Youngkin put the policy at the center of his efforts to help his party gain control of the state government.
Strategists, aware of GOP struggles on abortion, had widely viewed that proposal as a test message for Republicans looking for a moderate reproductive rights policy and message to run on in the post-Roe landscape.
What does it take to put on a debate? Here are the stats
What does it take to put on the debate? The setup by the numbers includes 300 crew members and 150 moving lights and 12 cameras.
Biden campaign launches new Spanish language ads in Florida
The Biden campaign launched two new Spanish language ads in South Florida today, just as GOP candidates prepare to take to the stage.
One ad focuses on the economy, and the other targets Venezuelan Americans, focusing on people who fled Maduro's rule.
"These ads will remind Hispanic voters in South Florida who really has their back," said campaign manager Julie Chavez Rodriguez. "It's President Biden fighting dictatorial regimes, protecting our democracy at home, and meaningfully investing in our community's economic well-being."
Tim Scott invites Jewish students to attend debate, citing rise in antisemitism on college campuses
Tim Scott will host more than 20 Jewish students from the University of South Carolina, the University of Miami and a local South Florida high school to attend the debate tonight, the campaign said.
Scott characterized the invitations as a response to what he described as an increase in antisemitism on college campuses.
"As hate and antisemitism proliferate on college campuses across our country, it is more important than ever to educate the minds of our next generation with thoughtful debate and discussion," Scott said. "I look forward to sharing my optimistic vision for our country with these students and all Americans."
Scott has made a concerted effort to frame himself as the most pro-Israel candidate on the stage and has introduced or co-sponsored six pieces of legislation in response to Hamas' attack on Israel, including a resolution yesterday that would reaffirm economic ties between the U.S. and Israel.
DeSantis campaign dismisses chances that an abortion ban could pass Congress
In the wake of yesterday's election results showing the continued strength of the pro-abortion rights movement, DeSantis campaign manager James Uthmeier dismissed the idea that a federal ban could even pass Congress, a sign that Republicans are trying to downplay the issue.
"He's a pro-life governor. He's not going to change that viewpoint based on whatever the, you know preferred narrative might be," Uthmeier said.
"In the wake of the Dobbs decision, the Supreme Court kicked a lot of that responsibility, that power, back to the states. Gov. DeSantis recognizes that. And the idea that Congress is going to send some 15-week or 12-week bill to the Oval Office — that's just not reality."
DeSantis signed a bill to ban abortion after 6 weeks, which is only two weeks after women can get a positive pregnancy result on most at-home tests and when many women don't yet know they are pregnant.
Trump says he's open to Tucker Carlson as his VP pick
In an interview on "The Clay Travis & Buck Sexton Show," Trump said he would be open to having former Fox News host Tucker Carlson be his running mate.
"I like Tucker a lot — I guess I would," Trump said when asked if Carlson would be on his list of potential VPs. "I think I'd say I would because he's got great common sense."
He also said he'd be open to considering one of his five rivals who will be at the debate: "I think it's possible. Look, some of them I like a lot."
Biden campaign hits Trump on abortion stance ahead of debate
The Biden campaign released a statement bashing Trump's anti-abortion views just hours before Republican candidates take to the debate stage. Trump will not attend, though he is considered the GOP front-runner.
"As he's said many times, no one did more to pave the way for abortion bans than Trump, and he was proud and honored to do it," said spokesperson Ammar Moussa in the statement given first to NBC News. "Republicans across the country are tied to Trump's losing MAGA agenda of ripping away Americans' fundamental freedoms and voters will hold Donald Trump and his MAGA buddies accountable next November."
The statement pointed to numerous times when Trump doubled down on the claim that he is "the one that got rid of Roe v. Wade."
"After 50 years of failure, with nobody coming even close, I was able to kill Roe v. Wade, much to the 'shock' of everyone," read one example of a Trump social media post referred to in the statement.
The statement comes after pro-abortion rights activists garnered a high profile win in Ohio on Tuesday with a vote to enshrine abortion protections in the state's constitution.
Trump's refusal to debate has done him no harm
On Aug. 23, the day of the first Republican presidential debate, the average of polls in the GOP race, per Real Clear Politics, stood at:
Trump 55.4%
DeSantis 14.3%
Ramaswamy 7.2%
Pence 4.0%
Haley 3.2%
Scott 3.1%
Christie 3.0%
Burgum 0.6%
That night, all of those candidates except for Trump took the stage in Milwaukee, with a television audience of 12.8 million tuning in. Trump's refusal to participate, his rivals and critics within the party predicted, would lead voters to believe he was taking them for granted and cost him support. It was also argued that in ceding such a massive spotlight to his opponents, Trump was giving them a priceless opportunity to define themselves and differentiate themselves from him on their terms. Certainly, this contention went, Trump would realize quickly he had erred in boycotting the debate and feel compelled to participate in the remainder of them.
That was two-and-a-half months ago. After the debate that night, there was a second in late September that Trump also refused to join. And now tonight comes the third debate, and once again — to no one's surprise this time — Trump will be a no-show. And what does the poll average look like this morning?
Trump 58.3%
DeSantis 14.6%
Haley 9.4%
Ramaswamy 4.4%
Christie 2.6%
Scott 2.3%
Burgum 0.8%
Simply put, there is no evidence that Trump's refusal to debate has cost him at all. His support is up since the first debate, and moreover, the share of his supporters who say they are locked in and definitely plan to vote for isn't just higher than anyone else in the field — it's higher than any modern GOP candidate we've seen.
Of all of his opponents, just one — Haley — has demonstrably gained any traction since the debates began, tripling her national support (though she still sits just below 10 percent in the average). And Haley's mini-surge comes with a catch: She's performing best with voters who are outside the core Republican universe; that is, independents and Republicans who have a negative view toward Trump. Tapping into these groups will only get you so far in a GOP primary, though. To advance further and have any chance of making it a game with Trump, she will need to appeal to Trump-friendly Republicans and even win over some who now saw they are with Trump.
Tonight's debate will feature five candidates — DeSantis, Haley, Ramaswamy, Christie and Scott — whose combined support adds up to 33.3% in the polls average — exactly 25 points lower than Trump's number. The lesson of debate season so far seems to be that Trump's rivals need him on stage with them badly, while Trump actually risks more by showing up than staying home. In other words, the pressure is on each candidate tonight to find some way to alter this equation and to convince Trump that he needs to be in the next one.
If they can somehow do that, then they'll have a chance for the kind of direct confrontation with him that they've all been denied so far. Of course, past GOP candidates who've had direct confrontations with Trump haven't fared very well. But given the dire state of their polling, just getting a shot at him face-to-face — even with the risk that it will go poorly — would be a major victory for the five Republicans who will be at the Miami debate tonight.
GOP primary voters want to hear candidates talk about abortion
Rob Lotito, an independent from Swanzey, N.H., argues abortion is an important issue for candidates to address, especially after yesterday's Republican election losses.
"The abortion issue is a lot bigger than people think it is," Lotito, 57, said. "There are a lot of people voting on the abortion issue from the Democrat side of a want to have abortion available to people. Why it's bigger than the economy? I don't know."
"It's a lot of noise right now," he said of the GOP primary field. "I think they're going after Trump too much. I think instead of providing what they do and what they can do best, they're allowing Trump to steal the scene and he's not even there."
"I think they got to make their own case and stand on their own two feet and talk about what they would do and how they would do it and accomplish that," Lotito added.
Beverly Boggess also wants the candidates to focus on themselves and the issues.
"I don't like them attacking one another, I just like to hear what your views are," Boggess told NBC News at a diner in Londonderry. "What they feel like is happening at the border, right now the war in Israel, the Ukraine war, homelessness. There is so much in our country that needs to be fixed."
For an independent in New Hampshire, the economy is issue No. 1
Ahead of tonight's debate, the economy is top of mind for Joel Hannon from Troy, N.H.
"Why are we giving money away to countries like Ukraine? That's just a waste of money," Hannon, 67, told NBC News. "Billions and billions and billions of our dollars are going out of this country to somebody that is going to lose the war anyways."
Hannon, a Trump supporter, thinks the GOP primary is a "farce" due to Trump's domination of the field.
"I don't think he's afraid of anybody," he said of the former president. "There's no reason to be afraid because none of them could do what he can do and what he has done."
Fatalism creeps in around DeSantis
In the shadow of polls showing DeSantis hasn't cut into former Trump's lead at the national level or in early state contests, there is a sense of growing fatalism around the Florida governor.
"It feels like in July I'll be wearing a f—— MAGA hat," said one DeSantis supporter who was in Miami to attend Wednesday night's debate and spoke on the condition of anonymity to be frank. "It seems inevitable."
Key takeaways from last night's elections: Democrats show strength beyond Biden
Tuesday's off-year elections provided a respite for nervous Democrats who have started to question whether President Joe Biden can lift the party to victory in next fall's presidential election.
Democrats won critical races in Virginia and Pennsylvania — states seen as barometers for the 2024 vote — as well as in Kentucky, where the governor won by a wider margin in his re-election bid than in his first go-round, beating a rival backed by former President Donald Trump.
Elections on Tuesday put many hot-button national issues to the test — including abortion, crime, election administration and, yes, even the impact of the war in Israel.
Vivek Ramaswamy links opponents to George W. Bush and Dick Cheney in negative TV ad
Businessman Vivek Ramaswamy is criticizing former United Nations Ambassador Nikki Haley and Florida Gov. Ron DeSantis in a new TV ad — and he's linking them to a past Republican presidential ticket to do it.
Ramaswamy doesn't mention Haley and DeSantis by name in the ad, which is running in the early voting states of Iowa and New Hampshire ahead of today's GOP debate.
But Ramaswamy does stand in front of a screen flashing images of Haley and DeSantis alongside former President George W. Bush and Vice President Dick Cheney while he criticizes "corrupt politicians" and the wars in Afghanistan and Iraq.
"Corrupt politicians spent trillions, killed millions and made billions for themselves in Iraq and Afghanistan. Now they're leading us into World War III," Ramaswamy says in the ad.
"As your next president, my sole duty is to you, the citizens of our nation. Not another one," Ramaswamy adds.
No need for an extra podium at the debate
Virginia Gov. Glenn Youngkin said today that he's "not going anywhere" and remains focused on the state, indicating that he will not be a candidate in the 2024 presidential election.
Source: | This article originally belongs to Nbcnews.com