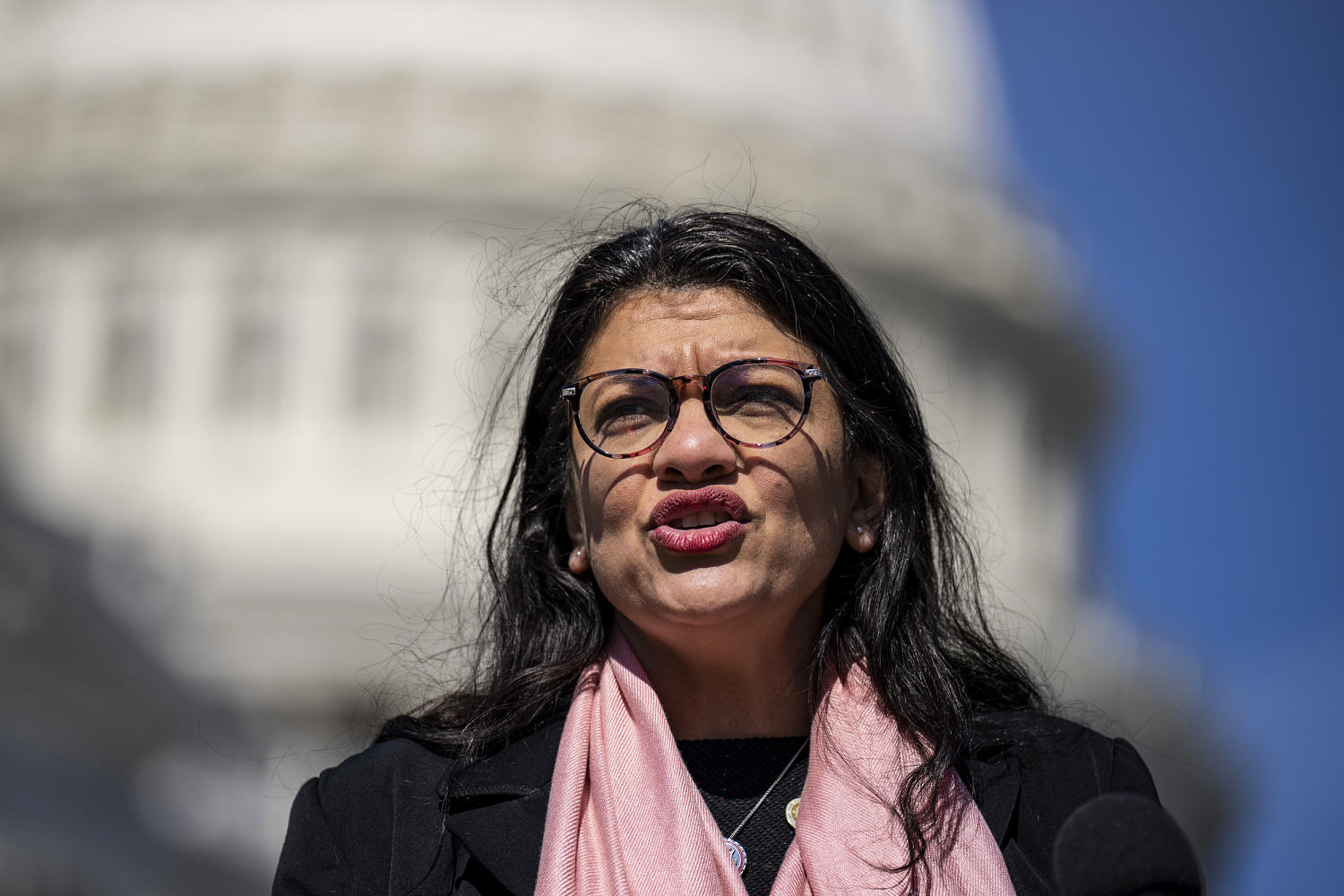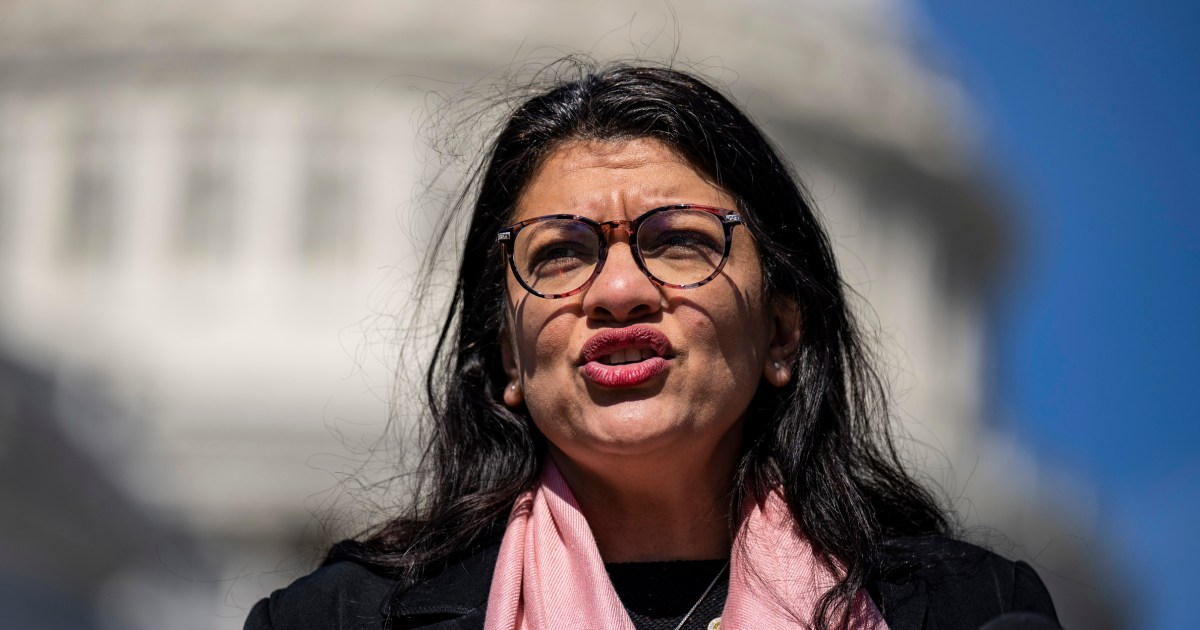 Rep. Rashida Tlaib is facing backlash from some of her fellow Democrats, including in her home state of Michigan, over her recent remarks about Palestinians amid the ongoing war between Israel and Hamas.
Tlaib, who is Palestinian American and one of just three Muslim members of Congress, posted a video to the social media site X on Friday featuring footage of pro-Palestinian protests from across the country, as well as remarks from President Joe Biden expressing his support for Israel. The video ended with Tlaib saying, "We will remember in 2024," followed by the text: "Joe Biden supported the genocide of the Palestinian people."
In another tweet, Tlaib wrote: "From the river to the sea is an aspirational call for freedom, human rights, and peaceful coexistence, not death, destruction, or hate. My work and advocacy is always centered in justice and dignity for all people no matter faith or ethnicity."
Democrats took issue with Tlaib's remarks over the weekend.
Florida Rep. Debbie Wasserman Schultz slammed Tlaib's "from the river to the sea" remark in a tweet Sunday: "This phrase means eradicating Israel and Jews. Period. Dressing it up in a new PR ploy won't change that. Only a return of hostages, eliminating Hamas and liberating Gaza from oppressive terror will save civilian lives and secure the peace, justice and dignity you seek."
Michigan Senate President Pro Tem Jeremy Moss suggested Tlaib's tweet was insensitive to Jewish people: "This is not how Jews view the phrase 'from the river to the sea.' This is not how Hamas views the phrase 'from the river to the sea,'" he wrote on X.
"Hamas uses it as a rallying cry," he added. "And they don't simply want to displace Jews in Israel. They want Jews dead."
Michigan Attorney General Dana Nessel called Tlaib's tweet "hurtful," writing, "I have supported and defended you countless times, even when you have said the indefensible, because I believed you to be a good person whose heart was in the right place."
"But this is so hurtful to so many," she added. "Please retract this cruel and hateful remark."
Michigan state Rep. Noah Arbit tweeted that he found Tlaib's comments to be "disturbing": "It is disturbing and enraging that Jewish communities in Southfield, Franklin, Bingham Farms, Beverly Hills and beyond are represented by someone who adopts wholesale the call for the State of Israel to be wiped from the map, necessitating the elimination of 8 million Jews."
Sen. Bernie Sanders, I-Vt., noted that Tlaib is a "friend" before criticizing her remarks about Palestinians in an interview on CNN on Sunday: "President Obama just said the other day, I think, quite correctly — and we all got to deal with it — this is an enormously complex issue."
"And slogans like 'the river to the sea,' if that means the destruction of Israel, that's not going to work," he added. "People who are saying, Israel, right or wrong, we're for you all the way, that's not going to work. This is a horrendously complex issue."
Rep. Pramila Jayapal, D-Wash. — the chair of the Congressional Progressive Caucus, who has warned Biden about his support for Israel and called for a cease-fire — on Sunday declined to side with Tlaib's claim that the president supports "genocide" in an interview on MSNBC's "Inside With Jen Psaki."
"I am not willing to say that yet," Jayapal said when asked if she agrees with Tlaib's remark, "but I will just tell you that Rashida is not the first person to say this."
Jayapal added: "There are credible reports from agencies across the world. And, you know, the United Nations has said we are hurtling towards the genocide of Palestinians. That is not an isolated view."
Tlaib's office did not immediately respond to a request for comment.
The Democratic criticism of Tlaib mounted as Israel said it would press on with its offensive in Gaza despite appeals from the U.S. and other countries for a pause to get aid to civilians. More than 1.4 million people have been displaced in Gaza, and health officials there say more than 9,700 have been killed. Israel says 1,400 people were killed in the Hamas attack, and more than 200 are still being held hostage.
The Democratic Party has increasingly been divided on the issue of the Israel-Hamas war, with some voters on the left criticizing Biden and Democratic politicians — such as Minnesota Rep. Dean Phillips and Sen. John Fetterman — and staging protests.
In response to Tlaib's latest comments, Republican Rep. Marjorie Taylor Greene of Georgia said she would reintroduce a resolution to censure the Michigan Democrat after her initial effort to do so was defeated by a bipartisan majority last week.
Greene said Tlaib's embrace of the slogan was equivalent to "calls for genocide of our great friend and ally Israel." The Anti-Defamation League has previously labeled the chant promoted by Tlaib as "an antisemitic charge."
Referring to the 23 Republicans who voted with Democrats against the resolution on Wednesday, Greene said she would remove the language "insurrection" and replace it with "illegal occupation." The censure resolution that Greene filed last month accused Tlaib of inciting an insurrection in a House office building.
On Oct. 18., hundreds of protesters filled the Cannon House Office Building to call for a cease-fire in the Israel-Hamas war. A Capitol Police spokesperson said that to the best of their knowledge, everyone went through security and entered the complex the proper way.
Tlaib didn't attend the protest indoors, a source familiar with the matter previously told NBC News, but she delivered remarks at a rally with the demonstrators outside the Capitol.
After voting against her resolution to censure Tlaib, Rep. Chip Roy, R-Texas, pointed out Greene's history of antisemitic remarks, including her suggestion that a "laser beam" controlled by a wealthy Jewish family was behind deadly wildfires in California in 2018.
Source: | This article originally belongs to Nbcnews.com